Sanitation stainless steel hook arm garbage can
Item No.: GBX16
INQUIRY
Description
Product introduction of stainless steel hook arm garbage can
Body material: made of 201 or 304 stainless steel;
The thickness of the box: 3 square garbage box side 1.5 bottom 2;
Car body roller: the bottom roller of the box body is cast in one time;
Box shape: optional trapezoidal box, curved box, square box;
Standard configuration: sealed box, channel steel reinforcement, with cast iron rollers, top double opening struts.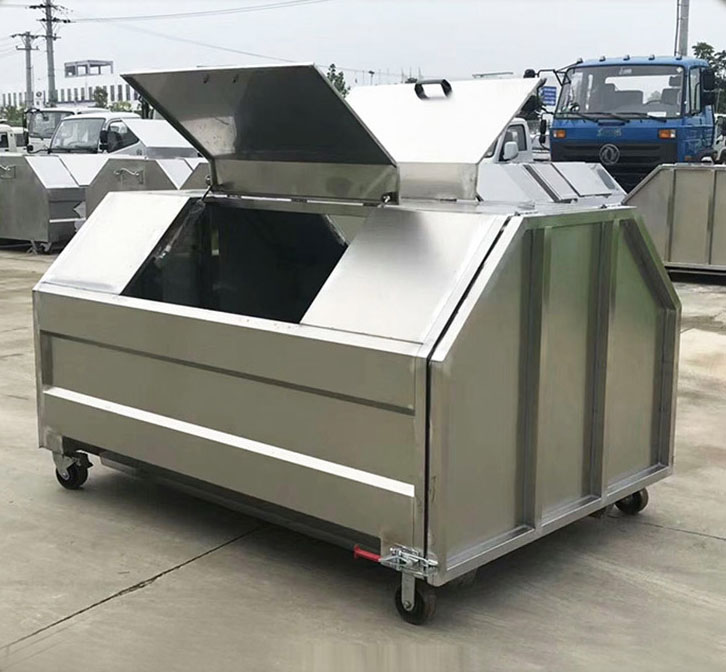 5 cubic garbage transfer box Product features
1. The appearance of the box is beautiful, and the left and right sides (two) or four feeding ports are supported by supporting devices;
2. The universal casters at the bottom of the box are made of high-strength polyurethane material, and the steering is flexible. The fixed wheel is a built-in bearing type, and the rotation is flexible;
3. The upper cover and rear door of the feeding port of the box should be flexibly rotated without jamming;
4. The back door of the box should have a sealing strip, and the sealing strip can be guaranteed to be used for more than 1 year;
5. All intermittent welding places need to be filled with sealant strips. The sealant strips between the box body and the rear door ensure uniform compression and reliable connection.