Chongqing Wangshan International Intelligent Environmental Protection House
Chongqing Wangshan International Intelligent Environmental Protection House has been completed
In 2022, policies and measures related to garbage classification will be issued in many places across the country to further strengthen the management of urban
Details
Chongqing Wangshan International Intelligent Environmental Protection House has been completed
In 2022, policies and measures related to garbage classification will be issued in many places across the country to further strengthen the management of urban garbage classification and promote substantial progress in garbage classification.
Chongqing Yaluo City Public Facility Manufacturing Co., Ltd. is a smart city advocate. In order to realize the integration of Chongqing Wangshan International Intelligent Waste Treatment, a smart waste house is specially created. The products include transfer station account information, waste bin management, and waste bins. Statistics on the number of shipments and other functions, assist the management department to carry out all-round management of the transfer station, and clarify the area, investment time, floor space, investment cost, processing capacity, facility status, service coverage, etc. of the transfer station facilities. Wangshan, Chongqing The International Smart Classified Eco-friendly House was completed on schedule.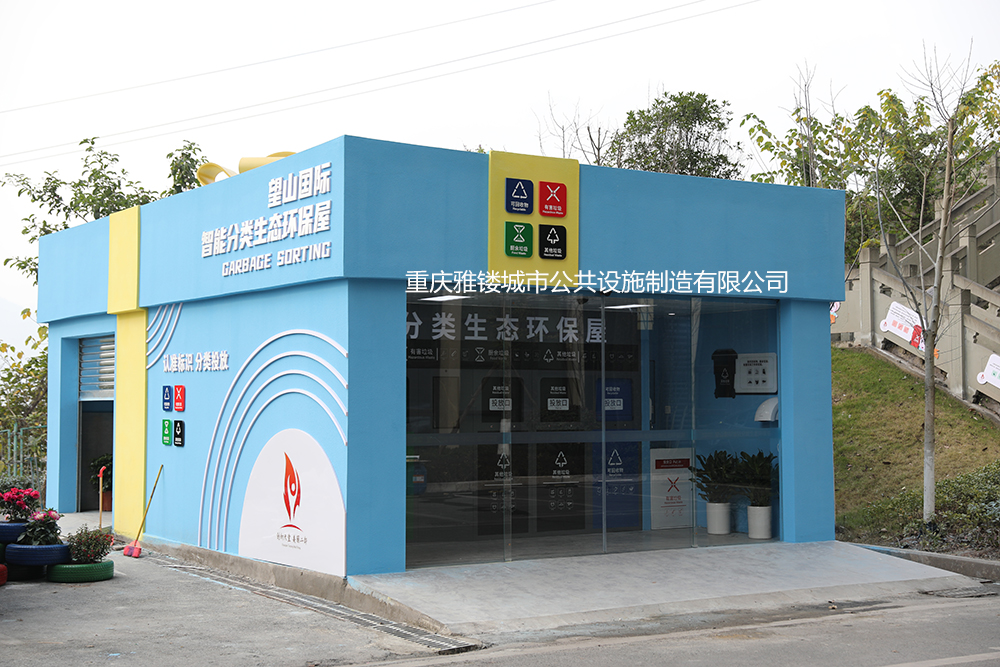 Garbage sorting room deodorizer
Therefore, the garbage sorting room and the garbage transfer station need to do a good job in deodorization. After all, the living conditions are getting better and better, and the odor will affect our life and reduce the quality of life. CC-12 garbage sorting room deodorizer is a professional equipment for removing odors. It uses ultrasonic atomization technology to spray plant deodorants into the air or garbage. The deodorant molecules can neutralize or decompose odors. factor, it can achieve the purpose of deodorization, so that there will be no odor pollution around the garbage room and garbage transfer station.
Smart sanitation integrated management and control cloud platform
On the basis of the effective integration of sanitation workers, sanitation facilities, sanitation responsibility areas, and key sanitation areas, daily sanitation work inspections and work assessments are carried out. Formation of work assignment, supervision, assessment, and evaluation of the working mechanism. At the same time, through the use of public sanitation applications such as mobile applications and WeChat public accounts, the public can actively report sanitation incidents, and use the background of sanitation to accept, assign and process tasks, form a response mechanism for public participation and timely handling of sanitation work, and improve the efficiency of sanitation work. Service quality and public satisfaction.